REBA/WILLIE litter – Born August 11th and ready for new homes! This was a litter of 7 all white English Lab puppies.  There is only 2 males available.  Price reduced to $1,000…contact me ASAP if interested!
DOLLY/COLT litter – Bred August 16th and due in mid-Oct, and will be ready for new homes in late-November! This litter's colors should be interesting, and I don't know for sure what we will get.  See below for more info. Here are pics of the parents.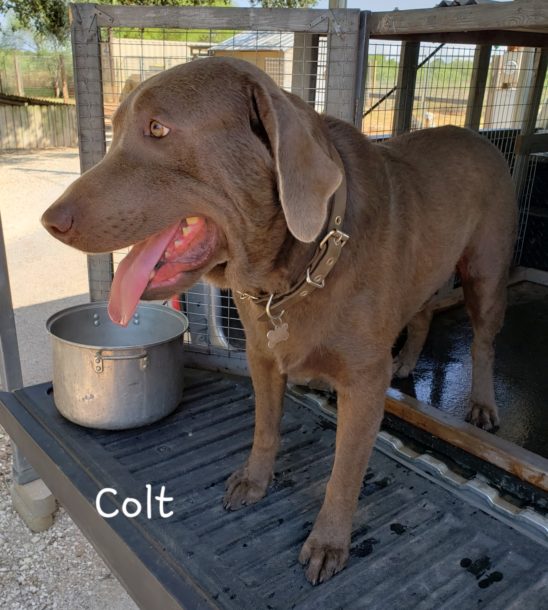 The price of ALL my pups is $1,300 (AKC limited registration with no breeding rights). If you are interested in AKC full registration, the price is $1,800, however you must contact me at 214-499-5437 to discuss and you must be a qualified breeder with knowledge, prior experience, and appropriate facilities to manage a litter of puppies. You can place a $200 deposit to reserve your pick of a pup from this upcoming litter(s). Deposits are refundable, however they can also be moved to a future litter if something comes up or if you have unexpected expenses arise. You can place a deposit in one of 3 ways:
1) Paypal: Use paypal and pay to jashier2014@gmail.com. Indicate in the comments section the gender and pick #.
2) Square (credit card): Email me at jashier2014@gmail.com to let me know you would like to place a deposit and I will email you an invoice with Square and you can pay with a credit card.
3) Check: Mail to Jason Hierholzer, P.O. Box 812, Pearsall, TX 78061
Contact me at 214-499-5437 to let me know you are sending a check.
We offer shipping to anywhere in the United States.  The fee for shipping ranges from $300 to $400, depending on your location and the time of year. During the summer months, the cost is a little higher because the puppies are shipped on an airline with temperature controlled cargo areas.  This cost range includes the shipping fee, insurance, a pet carrier, and a vet health certificate.
REBA & WILLIE litter born August 11th!
| | | | |
| --- | --- | --- | --- |
| Selection | Gender | Color | Reserved/Available |
| Blue | Male | White | AVAILABLE |
| Black | Male | White | |
| Red | Male | White | |
| Green | Male | White | |
|   |   |   |   |
| Purple | Female | White | SOLD |
| Yellow | Female | White | |
| White | Female | White | SOLD |
DOLLY & COLT litter bred August 16th and due in mid-October!
| | | | |
| --- | --- | --- | --- |
| Selection | Gender | Color | Reserved/Available |
| 1st pick | Male | ?? | |
| 2nd pick | Male | ?? | |
| 3rd pick | Male | ?? | |
| 4th pick | Male | ?? | |
|   |   |   |   |
| 1st pick | Female | ?? | RESERVED – JENNINGS |
| 2nd pick | Female | ?? | |
| 3rd pick | Female | ?? | AVAILABLE |
| 4th pick | Female | ?? | AVAILABLE |
PLANNED FUTURE LITTERS (Parents – Color(s) – Expected – Picks Available):
Remi & Colt – All Silver – Dec 2019 — 1st pick M – VILLANUEVA 1st pick F – AVAILABLE
Rose & Willie – White Labradoodles – Dec 2019 — 1st pick M or F – AVAILABLE
Beretta & Colt – All Silver – Winter 2019/20 — 1st pick M – CLINE   1st pick F – AVAILABLE
Elli & Colt – All Silver – Winter 2019/20 — 1st pick M – COMPTON   1st pick F – AVAILABLE
Erby & Colt – Silver & Charcoal – Winter 2019/20 — 1st pick M – HEPBURN   1st pick F – AVAILABLE
To reserve a pup from any of the upcoming planned litters, contact me at (214) 499-5437 with a text or call…Thanks