SILVER LAB PUPPIES‎
Puppies Available in early 2023
Mossy, Benelli, and Siggy will be having a heat cycle any day now and will be bred to Marlin. They will be due in Feb/Mar and puppies will be ready for new fur-ever homes when they are 6 weeks old. So I'll have 3 litters available for new homes in Mar/Apr 2023. RESERVE your puppy today! See below for more information.
To contact me for additional details, please call or text! Jason Hierholzer (214) 499-5437
Have a great day & may God bless you 🙂
===========================================================================================
The price of my pups is $1,600 for Silvers, or other dilute colors. Chocolates, or other standard colors are $1,250. This is for AKC limited registration with no breeding rights. If you are interested in AKC full registration, the price increases by $500.  Please contact me at 214-499-5437 to discuss and you must have knowledge, prior experience, and appropriate facilities to manage a litter of puppies.
You can place a $300 deposit to reserve your pick of a pup from upcoming litter(s). Deposits are refundable, however they can also be moved to a future litter if something comes up or if you have unexpected expenses arise. You can place a deposit in one of several ways:
1) CashApp:  pay to $SonofaGunSilverLabs
2) Venmo:  pay to @SonofaGunSilverLabs
3) Zelle:  pay to (214) 499-5437
4) Square:  Will send invoice to your email address (please add 3% for fees)
5) Check: Mail to Son of a Gun Silver Labs, P.O. Box 812, Pearsall, TX 78061
Contact me at 214-499-5437 to let me know you are placing a deposit
We offer shipping to anywhere in the United States.  The fee for shipping ranges from $500 to $1000, depending on your location and if by airline or by vehicle.
================================================================
Please note, I only take deposits for 4 females and 4 males for each litter.  When litters are born, any puppies available will be posted on this page, and then it's first come first serve.
Benelli & Marlin – Silvers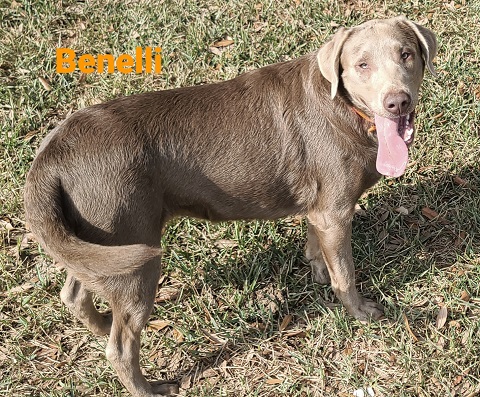 Pick
Gender
Color

Reserved

/Available
1st
Female
Silver
Sullivan
2nd
Female
Silver
Available
3rd
Female
Silver
Available
4th
Female
Silver
Available
5th
Female
Silver
if available after whelp
1st
Male
Silver
 Serna
2nd
Male
Silver
Available
3rd
Male
Silver
Available
4th
Male
Silver
Available
5th
Male
Silver
if available after whelp
Mossy & Marlin – Silvers
Pick
Gender
Color

Reserved

/Available
1st
Female
Silver

Paulsen

2nd
Female
Silver
Available
3rd
Female
Silver
Available
4th
Female
Silver
Available
5th
Female
Silver
if available after whelp
1st
Male
Silver
 

Erfurdt

2nd
Male
Silver
Available
3rd
Male
Silver
Available
4th
Male
Silver
Available
5th
Male
Silver
if available after whelp
Siggy & Marlin – Silvers
Pick
Gender
Color

Reserved

/Available
1st
Female
Silver
Available
2nd
Female
Silver
Available
3rd
Female
Silver
Available
4th
Female
Silver
Available
5th
Female
Silver
if available after whelp
1st
Male
Silver
 

Marshall

2nd
Male
Silver
Available
3rd
Male
Silver
Available
4th
Male
Silver
Available
5th
Male
Silver
if available after whelp
Daisy & Marlin – Silvers – All Reserved
Pick
Gender
Color

Reserved

/Available
1st
Female
Silver
Seger
2nd
Female
Silver
Porter
3rd
Female
Silver
Paskos
 
 
 
 
1st
Male
Silver
Gorman
2nd
Male
Silver
Buxton
3rd
Male
Silver
Garcia
4th
Male
Silver
Huff
5th
Male
Silver
Esparza
 
 
 
 
OTHER PLANNED LITTERS: If you are interested in a puppy from one of these future litters, contact me and we will get you on the list